5 factors to remember when renovating your bathroom
Renovating a bathroom or installing a new bathroom is a home improvement project that will add value to your home. But it's important to do it right.
Bathroom renovation is a home improvement project that will add value to your home, but it's important to do it right.
We put together a list of elements you won't want to forget when planning or undertaking a bathroom renovation.
1. Plan carefully
If you are renovating an existing bathroom or ripping out an old one, you will already know what worked and what didn't work in the layout. You can use this information to plan for an effective layout that meets with all your requirements.
Think carefully about where bath, toilet, sink and shower will be placed. If your current bathroom layout was badly designed, make sure to arrange the new layout to be efficient and practical. Placing a shower cubicle in front of a window is just one example of poor design, and yet so many builders and developers do this as a way to squeeze more into the small space.
The current bathroom layout might not have enough space for all your requirements, so think about how you can work around this. A good example of this is combining the bath and shower into a single space, or perhaps you could steal some space from an adjoining room. Being able to modify the available space gives you more freedom to install luxurious fittings or have more space to move around.
2. Consider luxury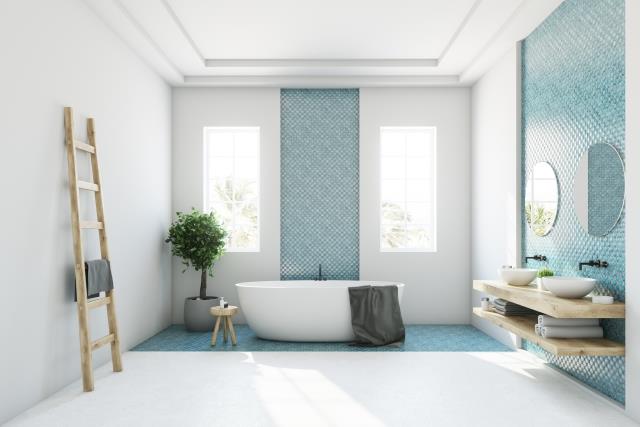 The majority of bathroom renovations done are to upgrade the existing room, and perhaps even to add luxury items to the bathroom, items such as heated towel rails or a freestanding bathtub. Creating a spa bathroom or luxury master is one of the top renovations done today. While keeping the layout as is will save you money on plumbing, this cannot always be avoided and you should factor into your budget.
DIY bathroom renovations are very popular, but if you have no idea where to begin, rather leave it to the professionals. However, you may still want to oversee the project to ensure it gets done to your specifications.
3. Practical considerations
When putting together your plan, don't forget to consider small fittings like heated towel rails, storage shelves and the like.
Imagine yourself in the plan when you decide where to put a shelf in the shower - will you be able to reach easily? Is it far enough away from the showerhead? In a practically designed bathroom, the heated towel rail should be within easy reach of either the bathtub or the shower. It is small items like these that can be easily overlooked and can spoil the layout at the end of the project.
4. Lighting matters
Bathroom lighting needs to be looked at during the planning stage. Most bathrooms come standard with a single, central light fixture and no consideration is given to task lighting or mood lighting. If you are aiming at a spa-like experience, consider that you will need lighting that can be adjusted to set the mood. Task lighting installed around the sink will provide illumination for your daily bathroom routine. Factoring these in at the beginning will allow you to plan for electrical points.
5. Free up floor space
Bathrooms are generally smaller spaces, most factoring in at about 3x3 metres. If you are adding sanitary ware that will fill up most of the space, you can use walls for storage and cabinetry. A good idea is to fit a floating bathroom vanity, as this will give the illusion of more space and not intrude on the limited floor space you have in the room. Alternatively, look at a bathroom vanity that is not quite as deep as most standard readymade models - or make your own bathroom vanity.
Source: https://www.property24.com/articles/5-factors-to-remember-when-renovating-your-bathroom/29214?SourceFeed=News24